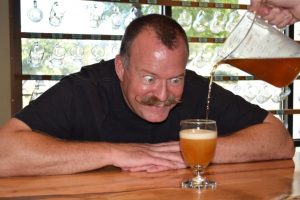 Gallaghers' tasting room is open 6 days a week and serves 8 rotating taps of fresh delicious beer!
We keep things lively by introducing a few new brews on tap every Friday for you to try.

16oz Pints $5.00.      

  *20oz Gallagher's Mugs for Mug Club Members – $5.00
---
Flight of Beer: $12.00 for 7 Tap Samples
Growlers To-Go & Refills: $12.25 per 1/2 gallon. Our selection is ever changing so stop by often. We carry our flagship styles and always new and evolving brews.
We have 3 big screen TV's for sports or movies while brewing or just hanging out!
We often have game day gathering events, or use it as a great time to brew or bottle while enjoying beer with like-minded friends.
Food delivery is available from various local restaurants & pizza houses – menus available at the brewery.
---
Mug Club 
The "Gallaghers' Mug Club" is a community of Gallaghers' brewing and beer drinking groupies.
Membership gets Discounted brewing privileges, use of a special 20oz Gallagher's glass mug and special edition apparel. The Mug Club concept has grown to include annual events, exclusive beer releases, Fresh Hops, and many other surprises all year long.
Perks of the Gallaghers' Mug Club, at just $50/year:
1. DISCOUNTED BREWING: Save $10 on every full batch you brew
2. Our annual special edition Mug Club T-Shirt
3. A 20oz custom Gallaghers' mug hung under your name tag in the brewery (filled for the price of a regular 16oz glass all year)
4. The Mug Club Newsletter keeping you apprised of happenings, new recipes, stories and fun.
5. A personal Invitation to all Mug Club events, opportunities and gatherings, Brew Off Challenges, Movie Nights, Game Nights, etc.
6. The annual Brewers Appreciation Party (late February), with a huge pot-luck, door prizes, giveaways, music, and entertainment. Super fun party – don't miss it.
Best of all, is the easy going fun with other Mug Club members. Making new friends that share the passion of beer has never been easier!
The Mug Club has evolved into a cool social phenomena with a nice rotation of members visiting the brewery. Probably the most cherished thing about the Mug Club is using one of the special 20oz Gallaghers' Mugs hung from your nameplate on the Mug Club showcase walls. Mug Clubbers pay the same price as a 16oz beer but get a filled-to-the-rim 20oz mug of delicious beer.  With the brewing discounts and the Tap discounts; your membership fee of $50 will pay for itself in no time!