Brewing Beer -in 6 easy steps:

1 Reserve Kettle     

2 Choose a Recipe     

3 Combine Ingredients

4 Make the Wort     

5 Keg & Ferment     

6 Bottle & Enjoy
Brewing a batch of beer at Gallaghers' only takes about 2 hours total brew time. When you arrive, we'll talk with you about what styles of beer you enjoy, and help you choose a brew from among our over 50 different recipes. This is sometimes the hardest step, as we've got everything from Wheat Beers, to Pale Ales, to Ambers, to Stouts and everything in between. After that, we'll assign you one of our copper clad steam fired, professional brewing kettles, and give you a very easy-to-follow instruction sheet. Then you begin crafting the beer of your dreams! Once you've completed the brewing process, we'll transfer your brew into one of our specialized fermenter and set a date for you to bottle your beer. The standard fermenting / aging time is only two weeks, then your beer will be ready for drinking and enjoying your own crafted beer. On your bottling date, plan to spend about one hour sterilizing your bottles in our professional bottle sanitizer, bottling and capping your brew. A full batch makes about 135-12oz bottles of the freshest beer you've every tasted! A half batch makes 66-12oz bottles. Storing your beer is easy too! If you just keep it in a cool, dark place, under the stairs is a great spot, your brew will be good for 3-6 months!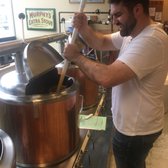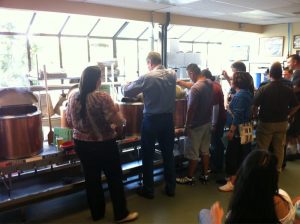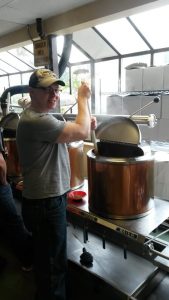 ---